So we are about 5 days away from leaving on our next Big Adventure. Our goal is San Diego, California by March 11th. Then we will spend a couple months going up the coast of Cali! We have to be in Gainesville by the end of July for (our one daughter) Nicole's graduation from grad school on August 6th!!!! Great thing to plan around!
I decided to start the blog now because there are a few things I wanted to talk about.
We had a lot to accomplish in the 3+ months that we were here in Ft. Lauderdale before we head out again. Plus I was working part time while we were here.
First thing was to sell our 2004 Lexus SUV and tow dolly and get a vehicle that we could tow with all 4 wheels down and buy a new towing system. The reason for this was to save some weight because we have higher elevations to traverse this time out and we were towing too much weight for the Moho. We accomplished this nicely. We sold the Lexus for just under what we paid for the "new" car a 2005 Chevy Malibu with about 75,000 miles less than the Lexus had and saved us about 1,250 lbs in towed weight
The next biggest thing was to get the listing fixed, so now she is riding straight.  He tried to do it last year but did not do the whole job so there we were back again.  This time he fixed it right!  He really is a good guy (and mechanic).  While this was being done they were also doing an oil change and checking all the other fluids. The mechanic would need the Moho all day so we had to gather up the dog, the cat and all other comforts for a day away from home and (fortunately for us) go to the brother-in-law's condo for the day and hope he could get all the work done.  We went by around lunch time and it looked good.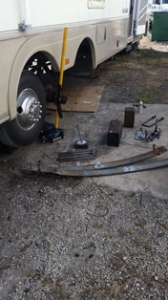 He ended up getting everything that we had discussed done but noticed a couple of things that he still thought should be checked out… sooooo, long story short, we are spending the night in the alley behind the shop rather than drive all the way back to our site just to turn around in the morning and do it all over again.
We had sandwiches for dinner because we were afraid to use the microwave and we got all the usual TV channels so we are happy campers.
So, tomorrow is Friday. We leave on Monday morning… not much time left. We are psyched!
Got the oil changed in the Chevy. Got our bikes checked out and oiled. hmmmm… what else? Doctor appointment and prescriptions written for the next 6 months.
Still need to pick up the meds, finish picking up our stuff that we left at the campground, go grocery shopping, going to the warehouse to drop off a few things a pick up a few things, etc….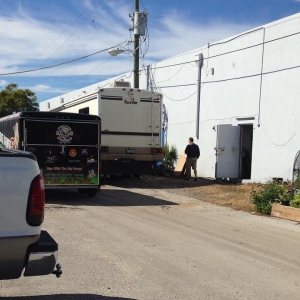 I think I got it all down. Going to end for tonight. More fun to come tomorrow…..
addendum:  A friend of ours from the campground was in an accident and called us to come and get his dog from the car as they were taking him to the hospital.  He has hairline fractures in his pelvis!  So in addition to our last minute stuff we are taking care of his dog and he has no idea when he will get out.  I sure hope something works out.  His dog is soooooo cute.
ok, good night! 🙂