So off to the high country of western South Carolina to see some cousins…….
Everything was fine until our planned stop for gas and lunch break around 3pm at a huge truck stop about an hour and a half from Irmo, SC- our final destination.
Okay, so we got gas and parked the RV off to the side away from the activity of the truck stop (which was very busy) and walked over to get some lunch.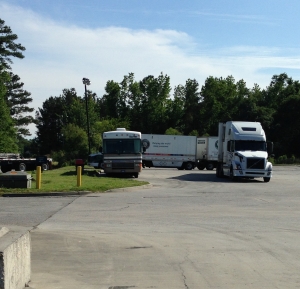 Came back and took a little nap.  When we got up we were all ready to finish the trip…..  "Pat-Ski" had different ideas…..  She wouldn't start.  Just a ticking noise.  And so started the debacle!
We called our mobile service who thought it sounded like a battery (I said no, but what do I know) and said they would send someone in about an hour.  An hour and a half later, no mechanic – so Chris called again.  They said some BS about not working with that company anymore and that they would call someone else and it would be about an hour again.  Guess what??  After numerous calls someone finally showed up at 8:30 that night and they didn't even know the name of the company that sent them out.  They called whoever called them and we got that straightened out.  In the meantime Chris had taken the battery out and walked it across the street to a truck tire place and they checked the battery – it was fine!  So Chris told the service co. all this and then they said probably the starter.  Back to the mechanic, he asked Chris to try to start the RV, said: " yeah it's the starter.  I'll be back in the morning to take it out and get a new one"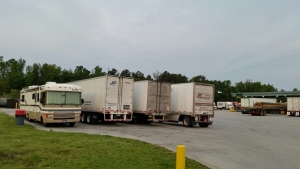 this is how we woke up the next morning…

Great!  We thought we were home free!  He came back the next morning about 8:30, took out the starter and said he'd be back.  One hour, two hours, three, four, five!  OMG!  It is now 24hrs in the truck stop!  Chris called the lady that was coordinating this debacle and she said they had to order the part and it would be in at 3:30pm.  OK!  (not)…  They finally got there with the part around 5 or so.  Put it in and it still wouldn't start!  Argghhh!!!  The guy kept fooling with it while Chris started calling the service people for a tow.  Then the boss showed up, was under there for like 2 seconds – says to Chris:  "try it now".
STARTS RIGHT UP!!!!!!!  YAY!
We did not wait a minute!  We were off again as soon as we got  more gas (we had used the generator).
We spent two nights in Irmo, SC.  Had dinner with some of my cousins (Sprankles this time). Really enjoyed seeing them!  It's been too long!  Wish we could have spent more time with them but the debacle used up one of our days unfortunately…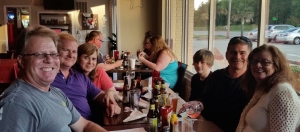 Took off the next morning for our gig in the Shenandoah Valley!