We discovered that there is a winery and a brewery in just about every town. After a couple days hanging out at the VERY COLD pool while Chris worked, we took a ride to the Bar Harbor Winery.
The winery was nice. We must have been there on a vintage car day.  There were two really nice ones in the parking lot.  We got to taste about 10 different wines.  We left with a bottle of Blueberry and a bottle of Apple/Raspberry.  We still have the Blueberry to open when we get back to Ft. Lauderdale.
After the winery we went to a lighthouse on the other side of the island in Bass Harbor.  Good thing I had on my sneakers, it was a bit of a climb if you chose.  Of course we did!  What an excellent rock climb!
There were these firewood stands everywhere.. and the honor system was used.
The next day we had a group of young kids from Brooklyn come in across the street from us.  It was a blast to watch them trying to set up their tents.  Later they were trying to start a fire with gasoline (omg) and almost blew up their stuff.  That and their music started to piss off their neighbors.  We helped them get a fire going and partied with them for a short time.  Later they worked their way into the hearts of their neighbors and were dancing with them in the street and having a good ole time!  When they left they gave all their fire equipment to us, their BBQ grill to their neighbors and some other stuff.  They were really a nice group of kids.
And this is the "Honey-Do Wagon".  All of their spots did not have full hook-up (i.e. sewers…) so they would come once a day, every other day or once a week.  We got every day.  It was a noisy thing but way better than having to really conserve water.  One day we both took showers and I was doing a few dishes and it started to back up with gray water into the bathtub.  ugh!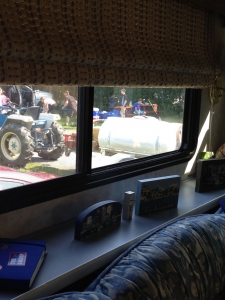 Next was our little trip to the Atlantic Brewing Company.  It was a nice tour but after Samuel Adams, well, what can I say?  We did get to taste a lot of beer though.  Then we went out to their little snack shack and had a bite while we listened to some music.  Nice afternoon.
Our next big adventure was to drive up to Cadillac Mountain for the first sunrise on the East Coast.  We left at about 4am so that it would still be dark when we got there.  We were not alone!  We brought our chairs, coffee and blankets as was suggested in one of the information pages I read.  It was all worth it!  It was a beautiful sunrise and then we got to walk around the summit path and climb on the rocks!  Wonderful!  If you ever go to Maine, this is a must in my humble opinion.
The rocks had beautiful colors in them.  Different colored moss?  Very pretty.
We caught this unicycler as we were walking to our car.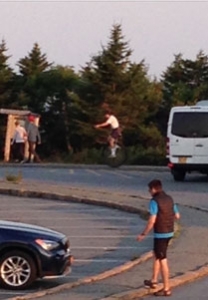 …and the beautiful drive home.
When we got back I got a little pool on.  Love a nice pool!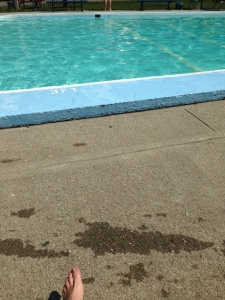 We ended the day with a beautiful sunset over the beach at the end of the road by the campground.  What a day!
Okay, that's it for now.  Part 3 to follow shortly. 🙂