I am skipping ahead a little because I am trying to stay away from facebook and just post about our travels here. I'm jumping ahead to the last 2 weeks.
We left Boston Minuteman Campground a day earlier than we wanted because we were unable to get one more day there and we couldn't get into the next one for another day.
We found a little campground in York, Maine.  It was practically on the beach but no dogs allowed on the beach (what a bitch lol).
Had our first lobsta and then we drove through Portsmouth after dinner but it was pretty dark, pictures did not come out well from the car…
This is the park we stayed in for one night in Maine before we headed back to New Hampshire…
The next morning when we were getting ready to head out I saw this interesting site…
We spent the next 2 weeks in Mi-Te-Jo Campground (or as we liked to call it "Mojito" campground, lol).
It was a nice campground but very much a vacation destination for the locals!  There was a lake with 2 beaches and a boat ramp, a huge baseball diamond and soccer field.  They had games up by the office like shuffleboard, big chess, bocci (spelling) ball, tennis, table tennis, pool tables…..but that is not really our style although i did go to the beach one day (and actually went in the water).
We took many walks and a couple bike rides too.  It was a huge campground (250 acres!)
It was a good location to do some more mountain exploring.  One day we drove up to the Cog Railway and took it to the top of Mt. Washington!  Wow!  It was amazing and cold!  And windy!  It was about an hour drive so lots more mountain shots!  So many mountains!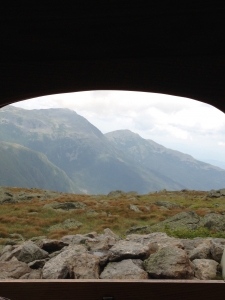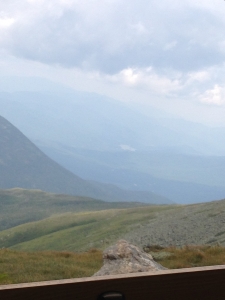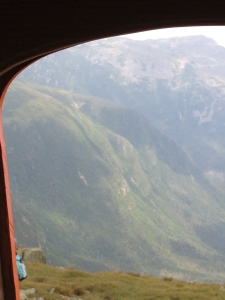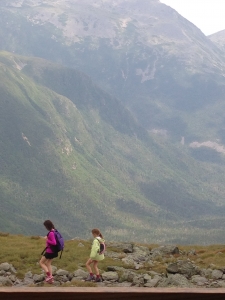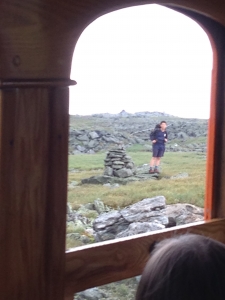 People on the Appalachian Trail
…..and the ride back down the mountain.
Our conductor pointed out that the trees are slanted on the mountain.  Pretty cool!
The ride home was just as beautiful!
Our campground was in a little town called Milton.  They have 3 ponds!  I learned the difference between a lake and a pond is the depth.  If it's shallow and you can see grass, etc. growing it is a pond.  There are a lot of ponds in New England!
We had one of our favorite dinners one night.. grilled salmon, artichokes with hollandaise sauce and noodles with capers! Yum!  We use firewood to cook a lot of our meals now but the sides in this case were cooked inside.
Our next adventure was a kayak ride around the pond.  We saw a Loon and her baby.  Had a great time!
The next week we went back up into the mountains to hike through Flume Gorge.  It was great!  Sort of like an outdoor cave…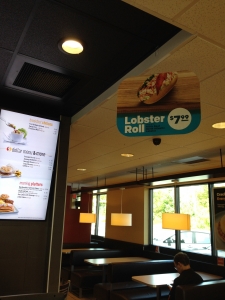 We stopped at McDonald's for coffee and check out the sign…lol
After our hike we took a drive into Vermont.  It was going to be the closest we would be to my brother Peter's favorite state so we went.  We found a neat little place where we bought Vermont maple distilled Vodka and maple syrup.
We biked around the camp a couple times.  The hills killed me, ugh!  There were a lot of kids on bikes.  And adults too for that matter.
Saw Chipmunks again!  They are so cute!
I tried to make a cairn but I'm not very good.  They are all over around here!
And off to Bar Harbor next!  Looking forward to that.  See you soon!