Our next city is Boston.  Beautiful city!  We had to drive through New York State, Connecticut and Massachusetts.  What a nice drive but we caught traffic in Connecticut and had to get off to cool off the RV.  Just a minor thing…
Next stop Boston Minuteman Campground.  We stayed here for a week and went into Boston twice.  I loved the pool here also.  Met a set of grandparents that were really nice.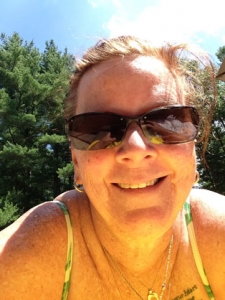 My first chipmunk sighting!
The first day we met my cousin and her children for lunch.  I love being able to connect with a people while we are on the road.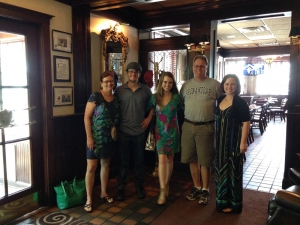 Afterward we decided to go into Boston and check it out.  It was very hot and we had no plan of what to do.  We found the Freedom Trail and decided to walk that.  It led us to the battleship the USS Constitution and the museum.  It was very cool.  We did not go on the ship.
We did some walking around but it was so hot we ended up taking an taxi back to our parked car.
boys partying on the rooftop!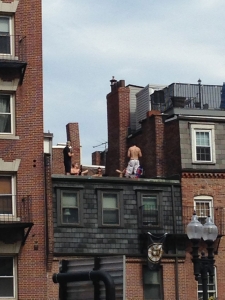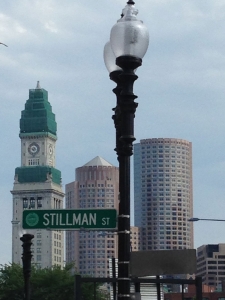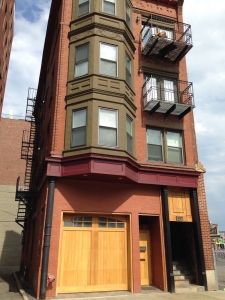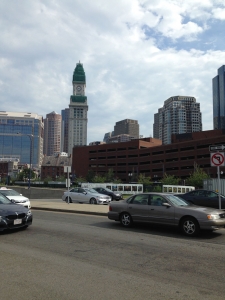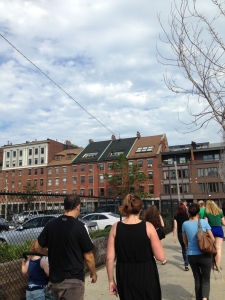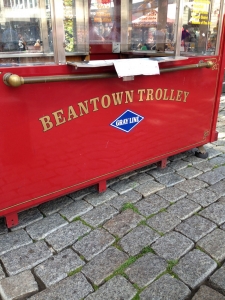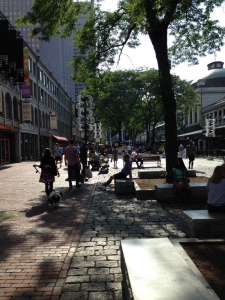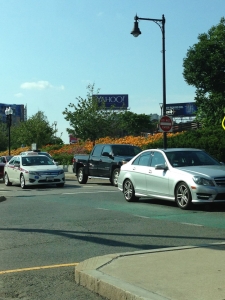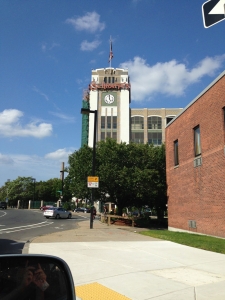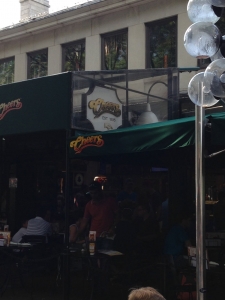 This is a duplicate of the original bar from the show.  We did not go in.
The next couple days we spent at the campground.  Chris worked and I did laundry and hung out at the pool.  It does get boring for me sometimes.  There's only so much tv, fb, blog and walking around by yourself that you can do…  But at this spot it wasn't too bad.  The pool was fairly warm and so were the days.  In fact we had beautiful weather the entire time we were in New England pretty much.
One night we went to this place for ice cream.  A couple I met at the pool told me about it.  YUM!!!
Some sites around the area and another cool camper…
Second chipmunk sighting!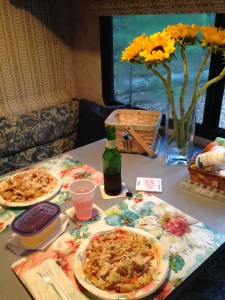 Dinner one night in the moho.  Chicken oriental salad…
Next we made our second trip into Boston with a little better plan.  I wanted to see the real Cheers and where the Marathon bombings happened and of course where the Tea Party happened!  And Chris wanted to go to the Samuel Adams Brewery.  (I lie, we both wanted to do it all, lol)
We came in a different way than the day before and went through what they call the "Big Dig", a tunnel of roads with exits and everything right under the town.
Our first destination was the Boston Marathon site.  There is no official monument yet but the lamp posts near the sight are decorated with (among other things) peace signs, ribbons and notes.
Next, we headed for the "Tea Party" location.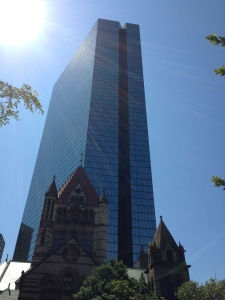 Old and new!
A kayak tour in the harbor…
We were both excited about our next stop… Cheers!  What fun!  We got seats right at the bar (which isn't very big) and the bartender was great!  Inside was totally different than the TV show and we learned that they never actually filmed there but at a set in Hollywood.  We walked through the shopping district on our way there.  Below are a couple interesting shots I got.  First one is 1 Summer Street (lol).  Second, I have never seen a portable Post Office before, have you?  And the cool banner at the end of the street…
We stayed there for about an hour then grabbed a cab for our final destination:  The Samuel Adams Brewery!
We arrived at there just in time for the last tour of the day.  Our plan but you know how that goes.  It was GREAT!!!  We had the cutest girl that did our tour, Caroline I believe
.  We tasted barley and hops.  At the end of the tour of course was the tasting.  And they do not skimp on the beer!
Afterwards we took an Uber cab back to our car.  He was very nice and I don't think I could have walked all the way back there, it was pretty far.
We loved Boston!  We had beautiful weather and there are so many pretty sights.
Now on the New Hampshire with a brief overnight stay at the bottom tip of Maine.