We left Creekside on July 3rd. It was a great experience and I hope I get to do it again soon… Here are a few last shots from there.  Next stop – Maryland!!!
This guy had a cool set up.  Double slide out garage for motorcycles!
These are a couple shots from my last day.  Wayne was the "duck wisperer" and I weeded and watered these beautiful flowers that William planted just a couple days after we arrived!
This was a gift from a camper to the campground.  I looked at it every day (when I worked).  Very cool!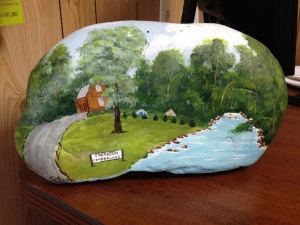 We had a full moon on our last night…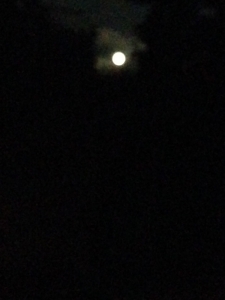 …and then we are off.  It was good, now I'm ready to see family and eat some crabs!!!
The RV went right back into her old spot just like she remembered it, lol.
Horses at my mom's neighbors and my brother Jim's dog Einstein.
On July 4th we got crab meat and made my brother Peter's recipe for crab balls.  Yum!  My nephew was the chef!  Great job James!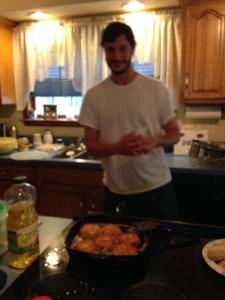 After that we went to see fireworks next to the Harbor Hospital.  We had a great time but unfortunately there was a lot of humidity in the air so the smoke from the first fireworks hid most of the rest of them.
An interesting site on Ritchie Highway – it's a nursery!  I love it!
While we were there we took the RV in for some maintenance work and we had to take Sassy and Cleo out and spend the night in my mom's house.  Sassy did not tolerate it at all.  I think she got confused in the night and trying to jump up on my mom's guest bed she slipped and fell behind the bed.  She started to seize.  She was never the same.  The next afternoon we took her to a vet to have her put to sleep.  She was barely breathing and limp.  I knew she was getting old (she was about 14-15 years old) but I am really going to miss her.  She was a great traveling kitty and very loyal.  I loved to lay in bed and pet her… She called out to me as soon as I would walk into the RV…
That night we had dinner with my sister and her husband which was very good and a great distraction.  Unfortunately I didn't get any pics – my mind wasn't all there.
We left the next day for Philadelphia…