Off to NYC! We stayed in New Jersey again. Just across the river from the city. It was just a parking lot for RVs but I loved it. Great view of the city and Lady Liberty!
This was our "campground".  But like I said you could see the city and the Statue of Liberty and it was soooo close to the city.  It took us maybe a half hour to get in.
You could sort of see our campground from the Freedom Tower!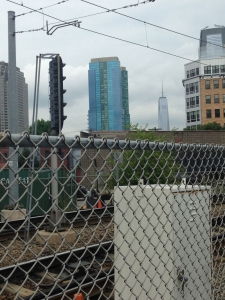 The first day we got there it was kind of early still so we decided just to go into the city and see what was up.  We took the train over which dropped us at the World Trade Center.  Good place to start…  We really planned on just walking around a little and then going back to the RV and get ready for dinner in Jersey where we could see the city.  It was a beautiful day and no line at the new Tower 1 so we decided to go in.  So glad we did!  It was great and not busy at all.  I had seen a news story on how there is a video in the elevator on the way up showing the build up of the city.  It was pretty cool.
————————–v——-our motorhome was just to the left of the u shaped building.
That night we found a really nice restaurant with a spectacular view of NYC and had a yummy dinner.
The next day (we only had 2 days here) we went back for the whole day.  We had a city hike planned, lol.
We started with a walk across the Brooklyn Bridge and back.  Never did this before.
Next was our walk to Ice and Vice, an ice cream store on the edge of Chinatown that we saw on CBS Sunday Morning and decided to check it out… It turned out to be a loooooonnnnnggggg walk but it was worth it!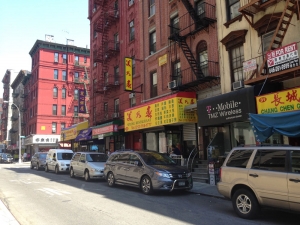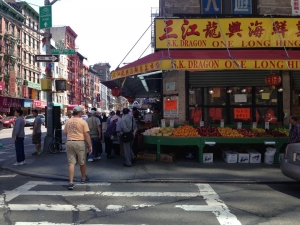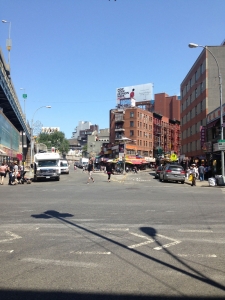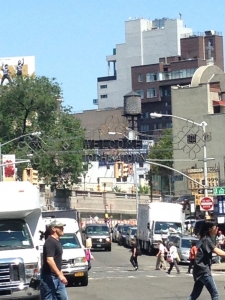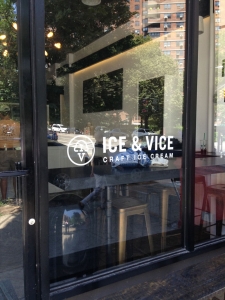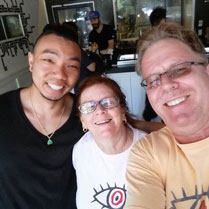 We even took a selfie with one of the owners.  The other one is in the background with the hat.  Such fun!
Next was the High Line.  A walkway made on the old elevated rail line.   We walked back through Chinatown to a subway station and rode that to the entrance.  It was so cool.  We only did half of it.  Where we came up to it you could either walk one way and go on the river or the other way and head back into the city.  We did the latter.  It is a beautiful walk.  Highly recommend it.
We made a little stop for a burger… it was near the fire station.
Somewhere along the way I tripped on the wavy concrete walkway and fell flat on my face… scraped my leg and my hand.  Chris was a little behind me taking pictures but a bunch of people came to my aid.  I was ok except my pride.
End of the line.  Found ourselves in Greenwich Village.  I had only been there once before in a cab at night.  We walked back to the World Trade Center area and I took a bunch of pictures of Greenwich Village but I can't seem to find them.  Oh well…
The bruises I got from my NYC…
Had a good night that night.  Here are a few pics of the city at night from our site.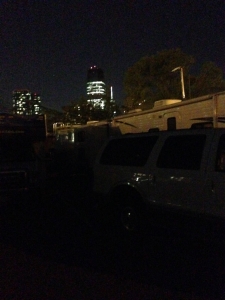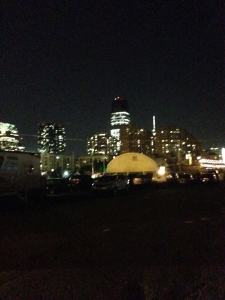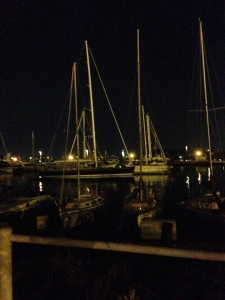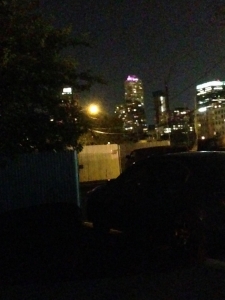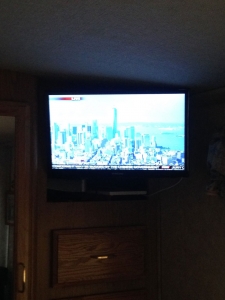 had to take a pic of the news on the tv…
Next morning I took Cleo for a walk around the Campground/Marina and then we left for Boston.
Bye Bye New York City!  Until we meet again!