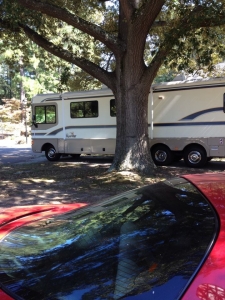 so, after losing my job 4 years ago (June 2010 as my twins were graduating from high school) things changed a lot for us…
we filed bankruptcy and sold our house in a short sale.
i got another job, but i grew to hate it
we spent many nights talking about what we were going to do. moving into an apartment would be almost as expensive around here as our mortgage
while this was happening my mom's husband died and their 1997 Fleetwood Bounder RV was just sitting in their driveway.  i have wanted to live and travel in it as long as they have had it (longer)
so my mom gifted us the RV and we moved into it on February 15, 2014
now, 6 months later we have adjusted well and love it.
i quit my job (for too many reasons to discuss here – another blog maybe), the girls are settled into grad school and we are planning our first real trip.
we have traveled in her 5 times now (once to bring her down here to florida, twice to Gainesville, once to Port Orange and once to Key West) but this time we are going for a month.
we leave this friday, august 29, 2014 heading to Naples first to visit my aunt and uncle. then on to Ft. Myers, up the coast to Myakka State Park, Sarasota, Tampa, a week long stay in Cedar Key, Tallahassee, Gainesville and down the east coast first to Titusville and stopping in Melbourne before returning home at the end of the month.
it took a lot of planning (credit to Chris here) and we are very excited to get on the road.