S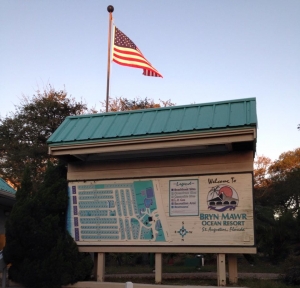 Well, we are on day 4 of our next adventure! Left Ft. Lauderdale around 12noon on Monday (2/2) and arrived in St. Augustine around 5:30pm. We were a little disappointed with our spot at first because we were supposed to have a wooden porch/gazebo and there wasn't one. No grill either. But 1/2 block from the beach so we were happy (at first).
After walking around the park and observing empty spots with gazebos we decided to speak to the office staff and they moved us! We are much happier now. It's a little windy for the awning so this way we have outdoor living space! Also none of the spots have grills (weird) so at least we have our little gas grill.
I'm feeling a little under the weather today, Chris is working and it's raining so we probably won't get too much done. Part of the reason I'm doing a little writing now.
A full moon greeted us on the first night…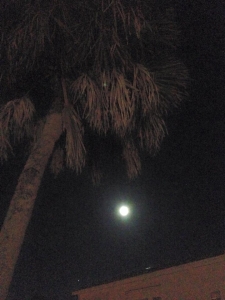 The next day we took our first walk (and Cleo's first ever) on the beach!  It was beautiful but very cold by this Florida girl's standards!
That's all for now folks!
Much more to come!