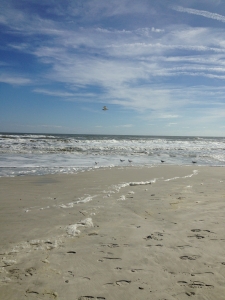 We have now been in St. Augustine 18 days! Wow, it is going fast! Just 8 more days until our niece's wedding (the main reason for our stay here).
The days have been filled with long walks on the beach, exploring St. Augustine and (of course) work for Chris.
Our first attempt to see the sunrise didn't turn out so well…  it was cloudy and COLD!  But we have time for that still!
Our next walk on the beach was also cold and VERY WINDY!  So windy that it made foam on the beach.  Cleo was fascinated (as was I).
The wind made cool patterns in the sand!
Our cat Sassy has been getting a little more comfortable in this moho!  (she is the definition of "scaredy cat"!)
Great patterns in the sky too.  It seems that Saturday morning is practice time for these pilots!  Made for some beautiful sky shots!  Also some kite flying going on.
It was funny to see street signs on the beach.  Not used to that in South Florida.
Cleo loves the water (at least as far as Chris has been able to go in that is. lol).  We must come back here in the summer when the water is warm!
Taking a break now to post this.  More to come later! bye, bye