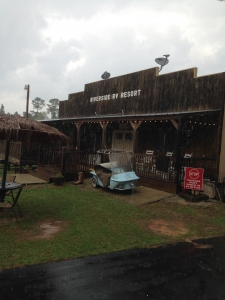 Packing up the RV. You can see the tiny park we were in in New Orleans!  Compared to Alabama where we had the whole park almost to ourselves!
Mobile and the tunnel again
See our reflection in the rear window?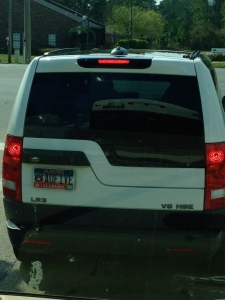 There was no one in the office at our next park and the spot we were supposed to have was taken so we drove around a little and picked out the spot we wanted.  The "river" was right behind us over a small hill so you couldn't actually see it from the RV.  The reason I say "river" is because it was very low and not very wide, I walked halfway across and it went to about my knees.  It looked muddy but it was really very clear and the bottom was sand.  I bet it would be really nice in the summer.  It's supposed to be a very popular tubing area.
It was so quiet here that Sassy ventured out of the bedroom!
On Friday night we went into Mobile for dinner.  It was very quiet.  It's a pretty small city and the area near the water was pretty dead.  We had a nice dinner though, my new favorite – grilled oysters!
Saw some pretty interesting art work on our walk including an unusual bike rack and a rotating bar sign on the sidewalk.  I hope you can make them out…  The kitty in the window is real.
On our last day here we took one more walk around the park before we left and I had to at least put my feet in the water!  It was so clear and shallow.
And then we loaded up the car and headed to Florida.
Next the Florida Caverns!  I know it seems like we didn't go very far out of Florida but we are not done yet!  We are on our way to a wedding in Clearwater on April 18th, a quick stop back in Ft. Lauderdale then we are going to head up north.  We have our first Workcampers job in Virginia for May and June!  I'm excited for the adventure!
Oh, I thought this was kind of interesting… 3 pictures of the Styx River, #1 is how we saw it, #2 is the way it looks in the summer and #3 is last April when it flooded.  Three different rivers!
Until next time!