I have lived in Florida for over 30 years and I never knew there were caverns here! What a treat!
We were excited to see this nature treat right in our back yard so we had to get up early and get over to the ticket office. The only way to see them is on a tour that sells out VERY quickly! I read all kinds of horror stories of people that drove there and couldn't get in…
…but we made it in and boy was it worth it! I will try not to put up too many pictures, haha.
We saw bats!!! But fortunately they were sleeping!
Ok, enough bats, lol!
These next two pictures are of a room they call the "Wedding Room".  Wonder why??
Like I said, I tried to cut down on the pictures but it was really hard.  They are all soooo cool!
The next couple shots are of some interest.  One shows how they put plates in the ceiling to reflect light into the caves.  The other is a cut of stalagmite that they would tie a rope around and tie to them so they could find their way back when they went deep into the caves to carve them out.
The caves went on for a very long time and it was so interesting and beautiful!
One of my favorite formations…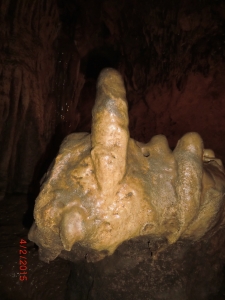 …and the "Christmas Room"!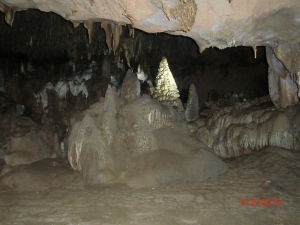 We then exited into the beautiful forest above and took a round about trail back to the Visitors Center.  Really enjoyed that too!
So that was our walk through the Florida Caverns!  Thanks to Chris for planning our course and including this gem!
There is also an old fashioned swimming hole in the park.  We took a walk over to it one day.  I don't think I could swim in there but kids had no problem when the weather warmed up a bit the last day.
We were only there a few days and were so busy we never even set up our porch area…
We went into dinner in Marianna one night and I must add here that Jackson County, Florida is a semi-dry county and there are not many restaurants that serve even beer and wine.  We did find one and ended up having a very nice dinner.  Madison's Warehouse if you ever go there!
Well, that's it for Florida Caverns!  Really enjoyed it!!  Next stop, Cedar Key!