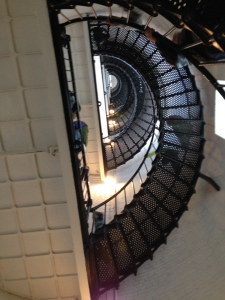 We had some great times over Valentine Weekend. Our friends from Ft. Lauderdale and Melbourne came up for a visit. We played tourist although it was VERY COLD and WINDY!
The first morning we went to a little festival in St. Augustine Beach and bought these really cool hand carved amplifiers for your iPhone. $30. and they work great. Especially in the RV on the road where you can't get a decent radio station.
Our first stop was the lighthouse. We climbed all 200+ steps to the top and got some great shots.  This is where my niece's fiance' proposed to her.  Worth the climb (with a few rests).
Next we took the Red Train Tour.  St. Augustine is a beautiful town and lots of history!  There is the Fountain of Youth, the Fort, the cobblestone streets just to name a few.  Got off at St. Georges St. which is closed to auto traffic and wandered around shopping and looking for a place to eat (so many choices I don't even remember where we ended up!).
On our way back to the car we walked around the fort a little but decided against going inside.
That night we had a birthday celebration for Susan.  Delicious food, great company and a warm bonfire!  We were sorry to see them go…
Okay, that's it for today!  Next post "The Wedding"  coming soon.